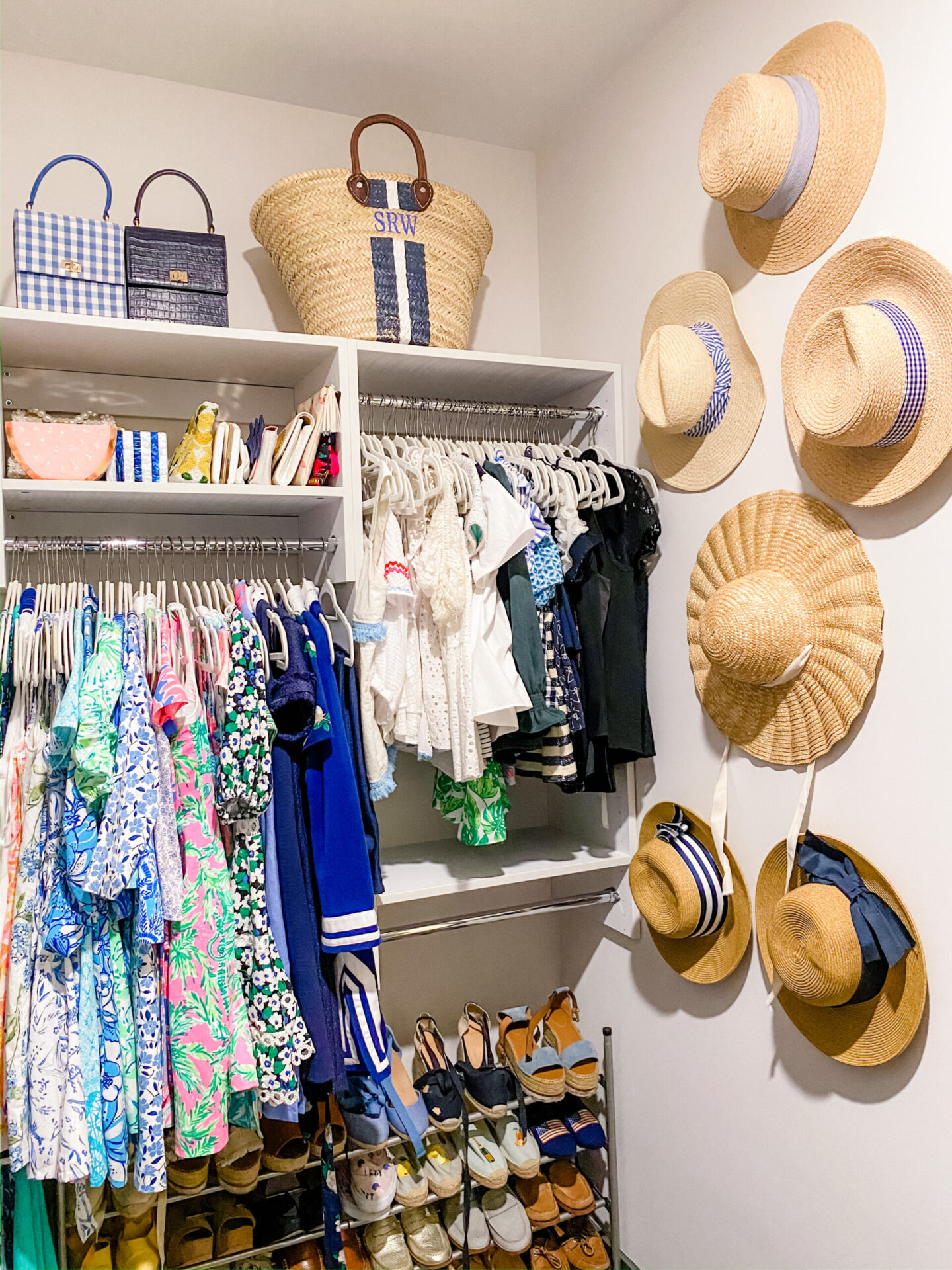 Moving is a daunting task, and even more so when you're doing it on your own. Before moving apartments, I knew the bulk of my items were going to come from my closet, so I decided to do a preemptive clean-out session. And even though I donated or sold (to ThredUp) about 7 bags worth of clothes, I still felt so disorganized when I finally unpacked and moved into my new apartment.
Although I technically had room for everything at my new apartment, I had NO idea how to even begin the organization process. That's when I knew I could use some professional help and reached out to Rebecca from Luxury Organized. I found her via Instagram and loved her aesthetic and process for organization and because of her fashion background I was confident that she'd understand my closet goals. And boy was I right! Rebecca was not only extremely professional and thorough, she also had so many great ideas for how to turn my disorganized mess into the boutique style closet of my dreams. It was such a lovely experience working with her and I'm so happy with the results.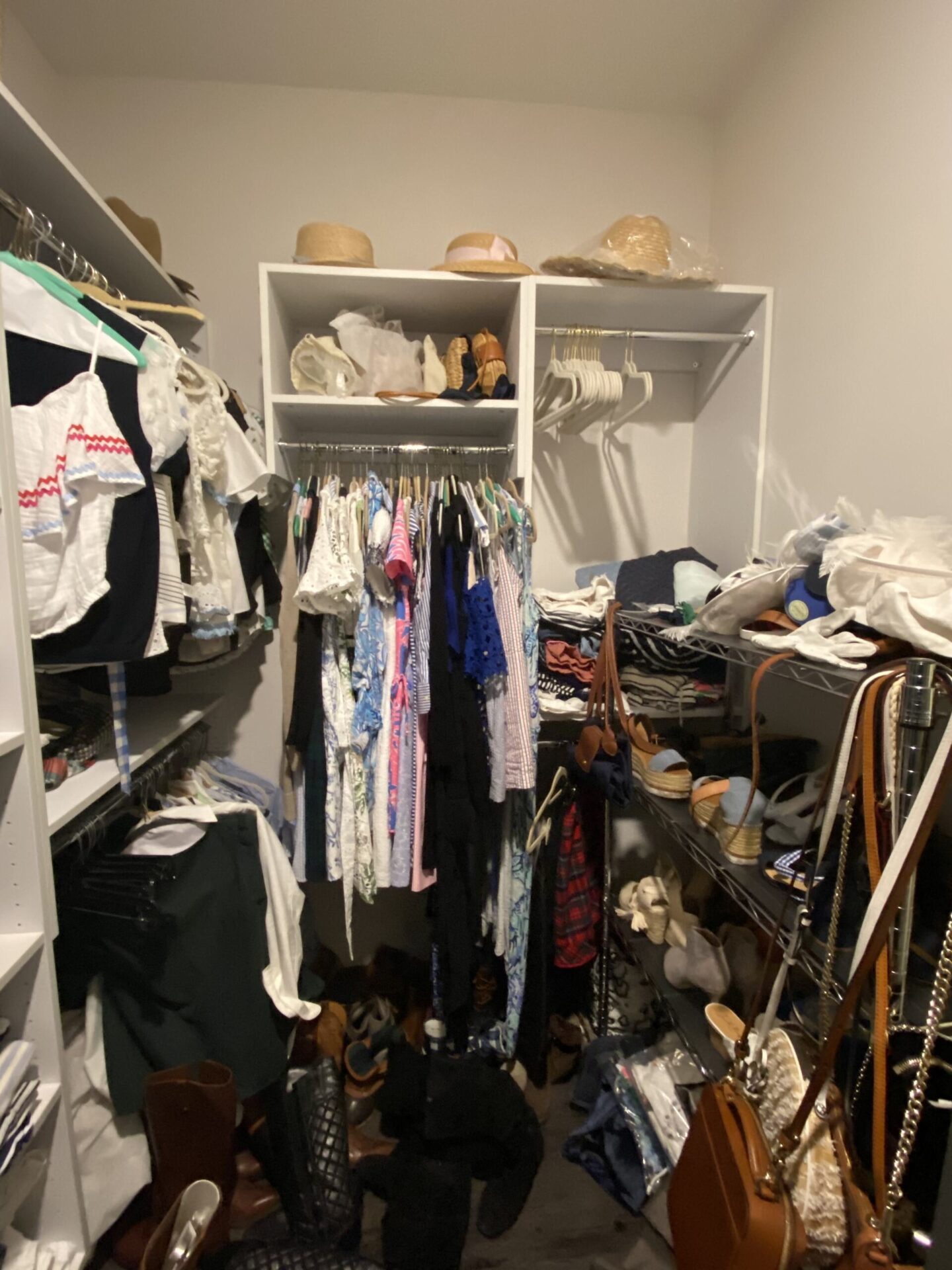 Before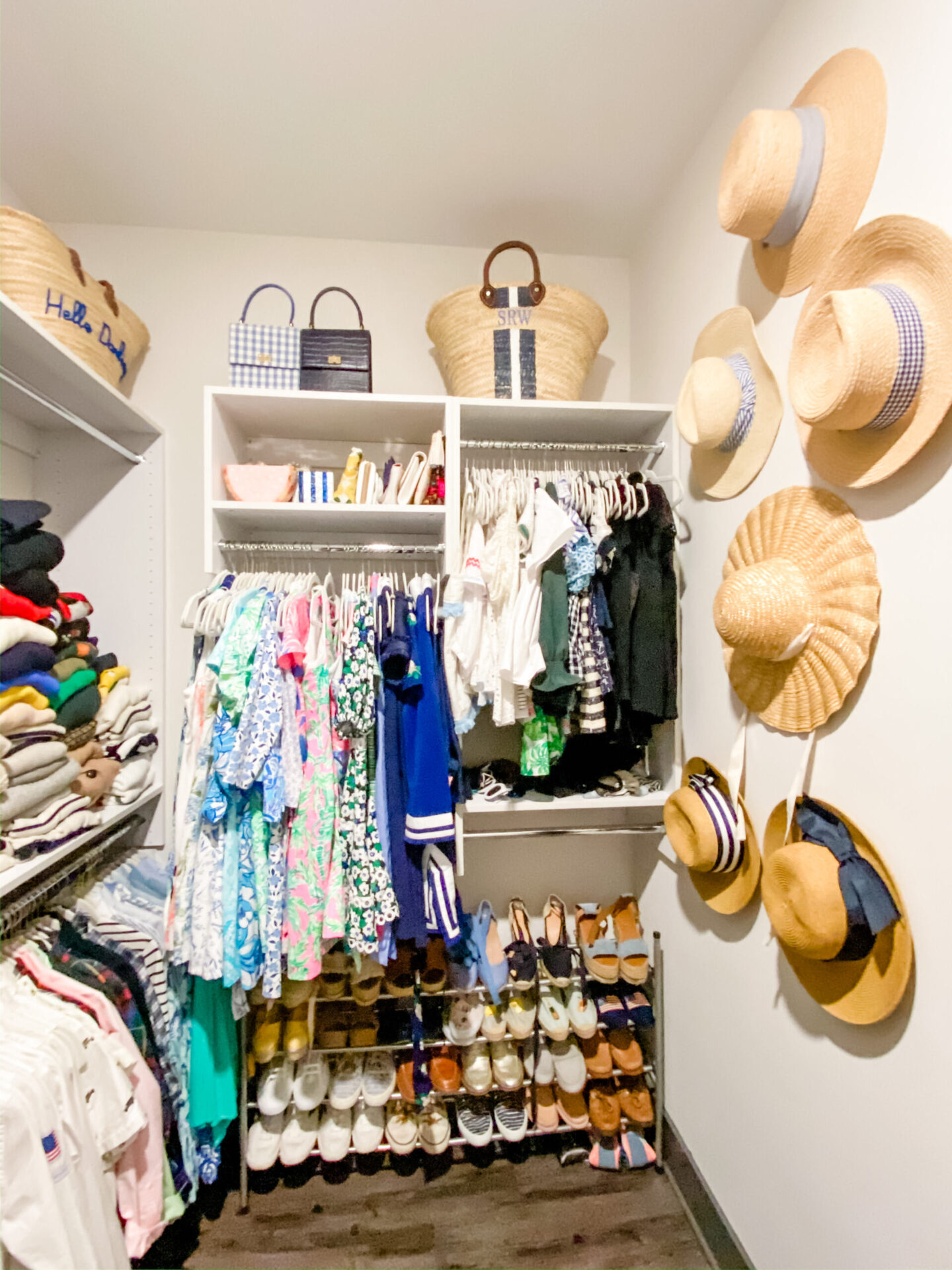 After
She turned my accessories into decor and made them both easily visible and accessible. It's so fun to be able to display my most beloved items and it makes getting dressed or planning for a shoot that much easier.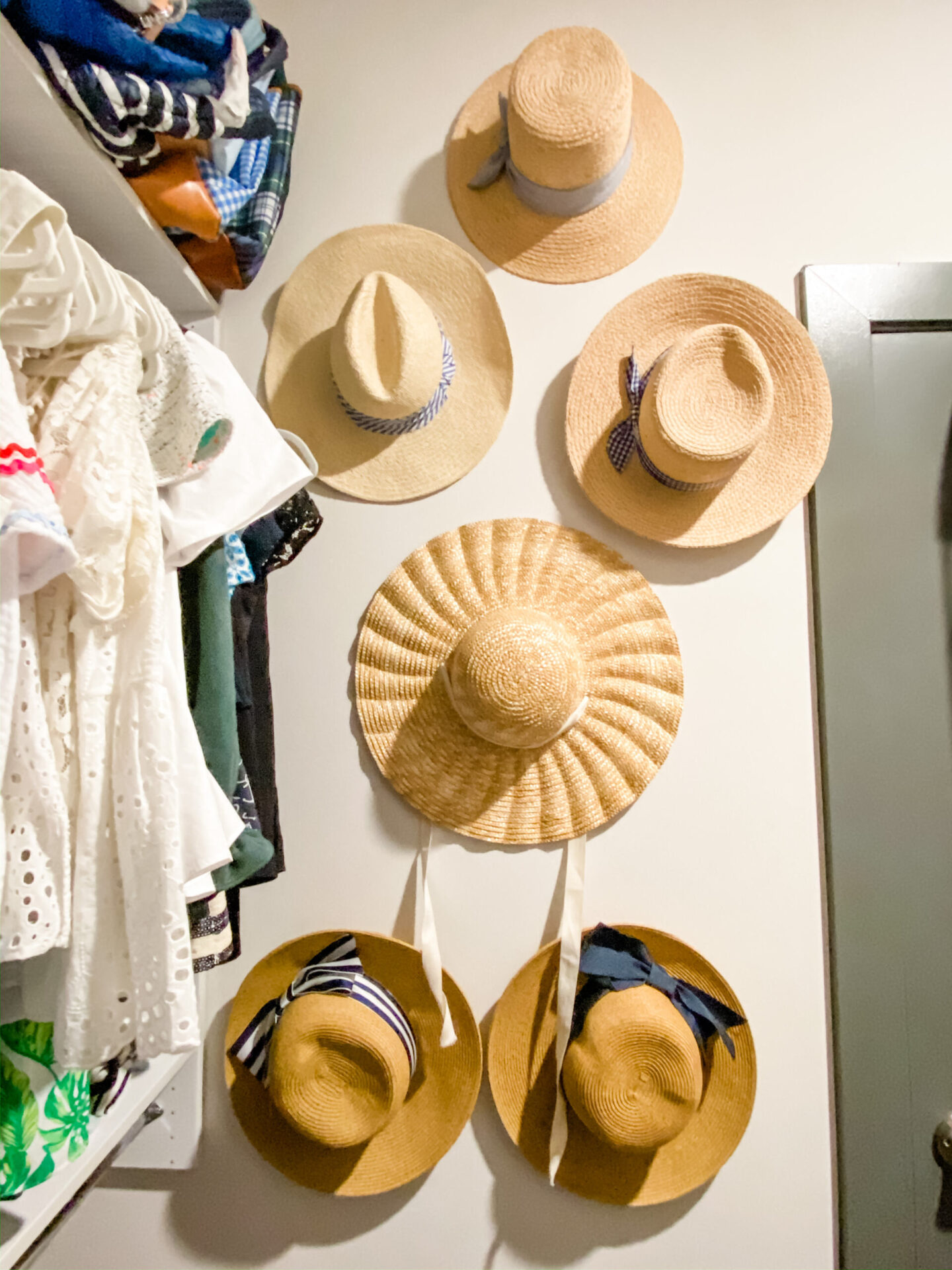 We also worked on color coating my closet and organizing clothes by season so that I knew exactly where things would be. My shoes were no longer in a heap on the floor, but stacked so nicely, that I finally had a closet floor again! She also had the brilliant suggestion of adding a "not dirty, not clean" hook so that all those clothes that would normally end up on a chair (you know everyone has THAT chair) were out of the way and easy to grab if I just needed a quick sweater for walking Duke. With her fashion background, she knew how important photo shoots are to my blog and although I didn't have room for a hanging rack to organize my "to-be shot" pieces, she added in some extra hooks so that I could lay out my outfits beforehand in a more professional way than my previous process of laying things out on the couch the night before, only to have Duke snuggle up and essentially re-wrinkle all the clothes before the shoot.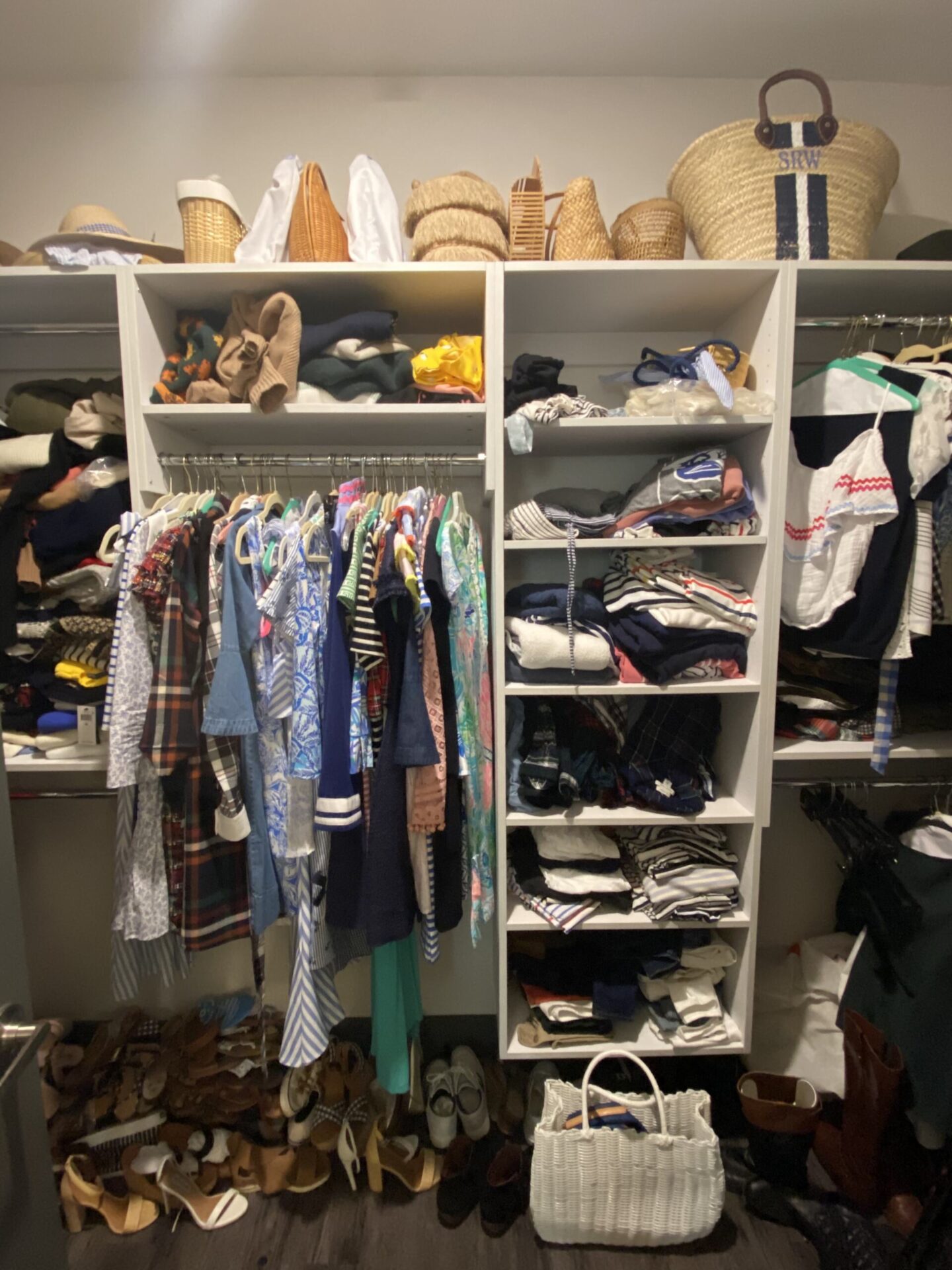 Before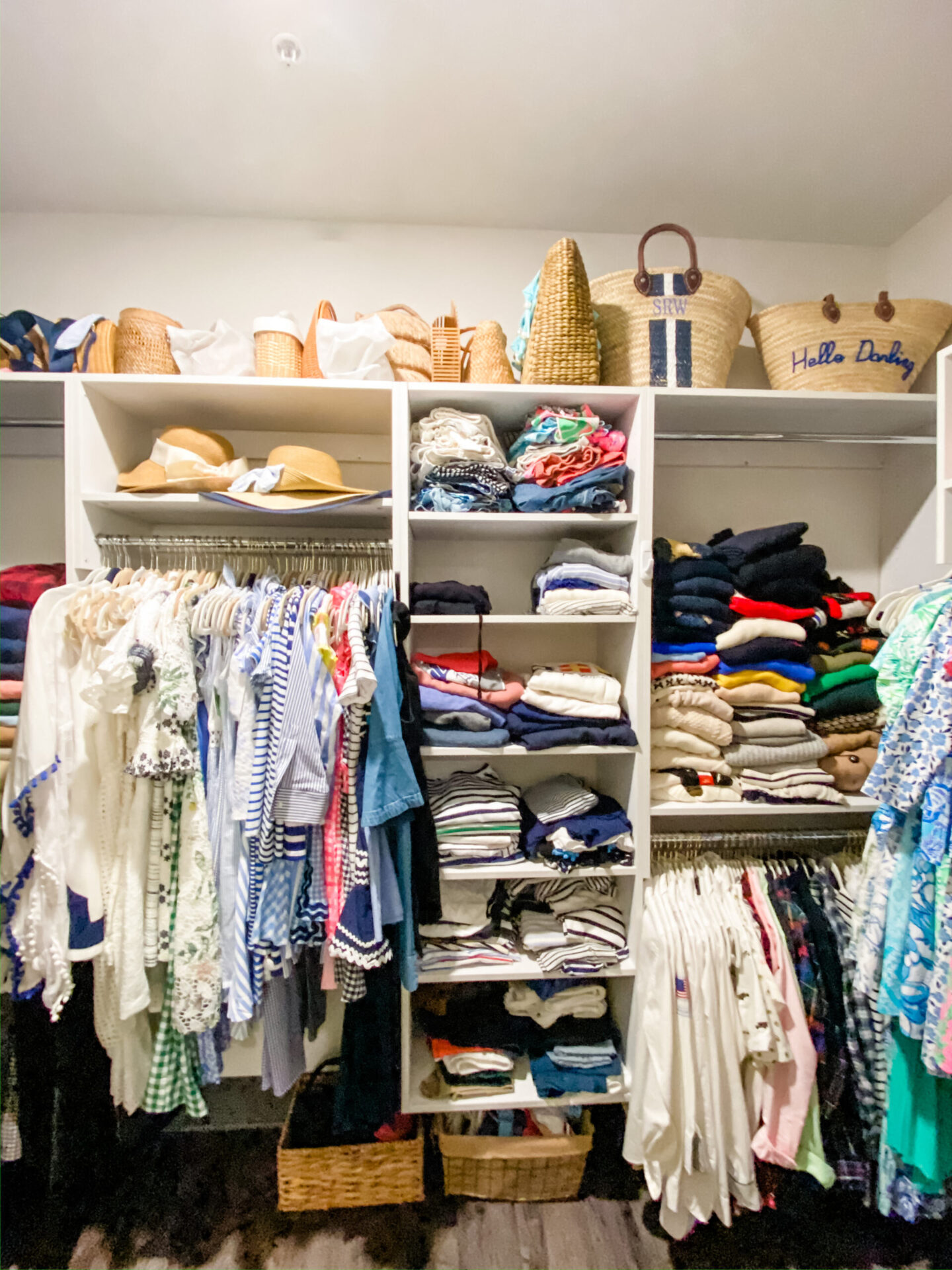 After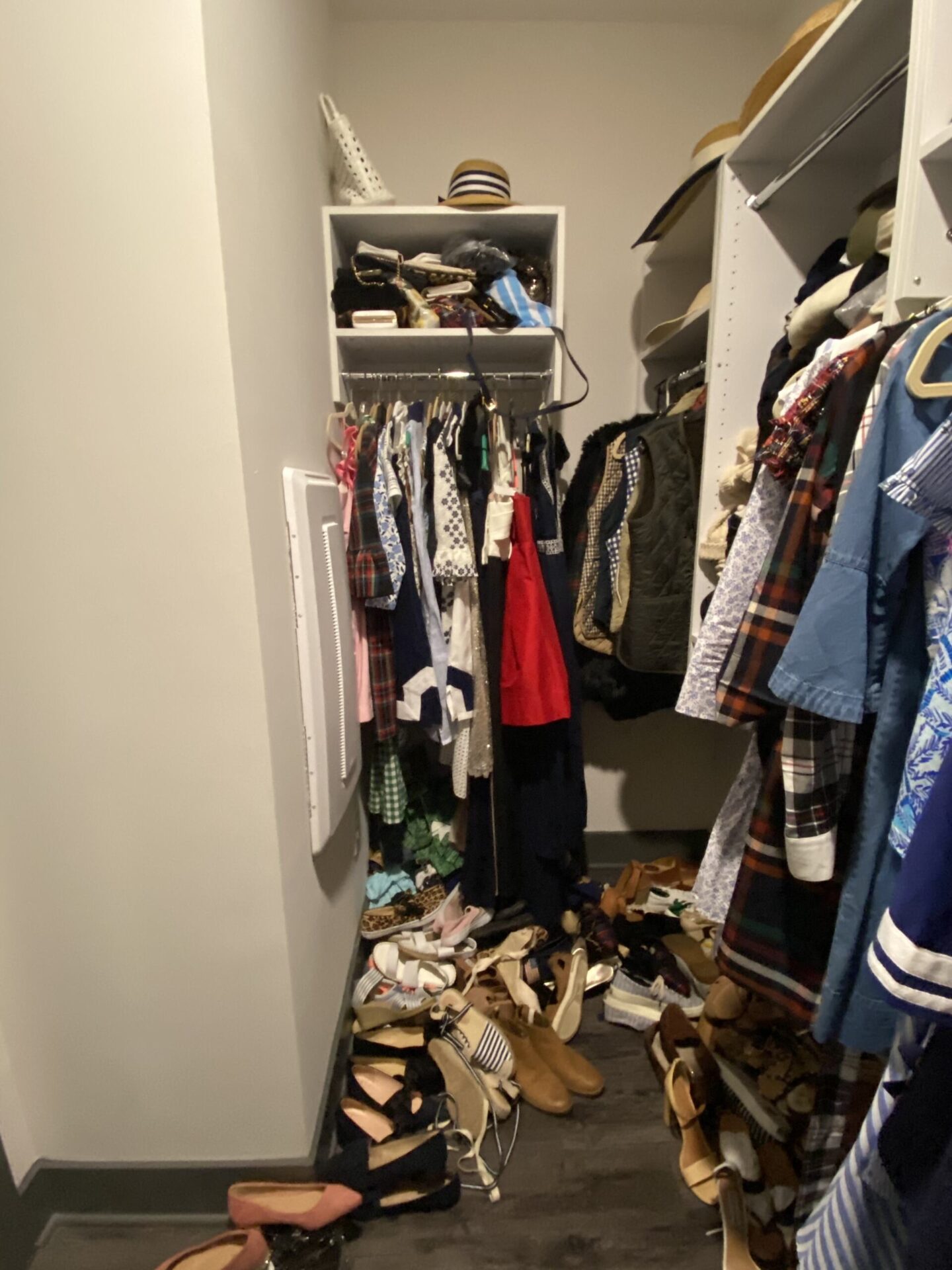 Before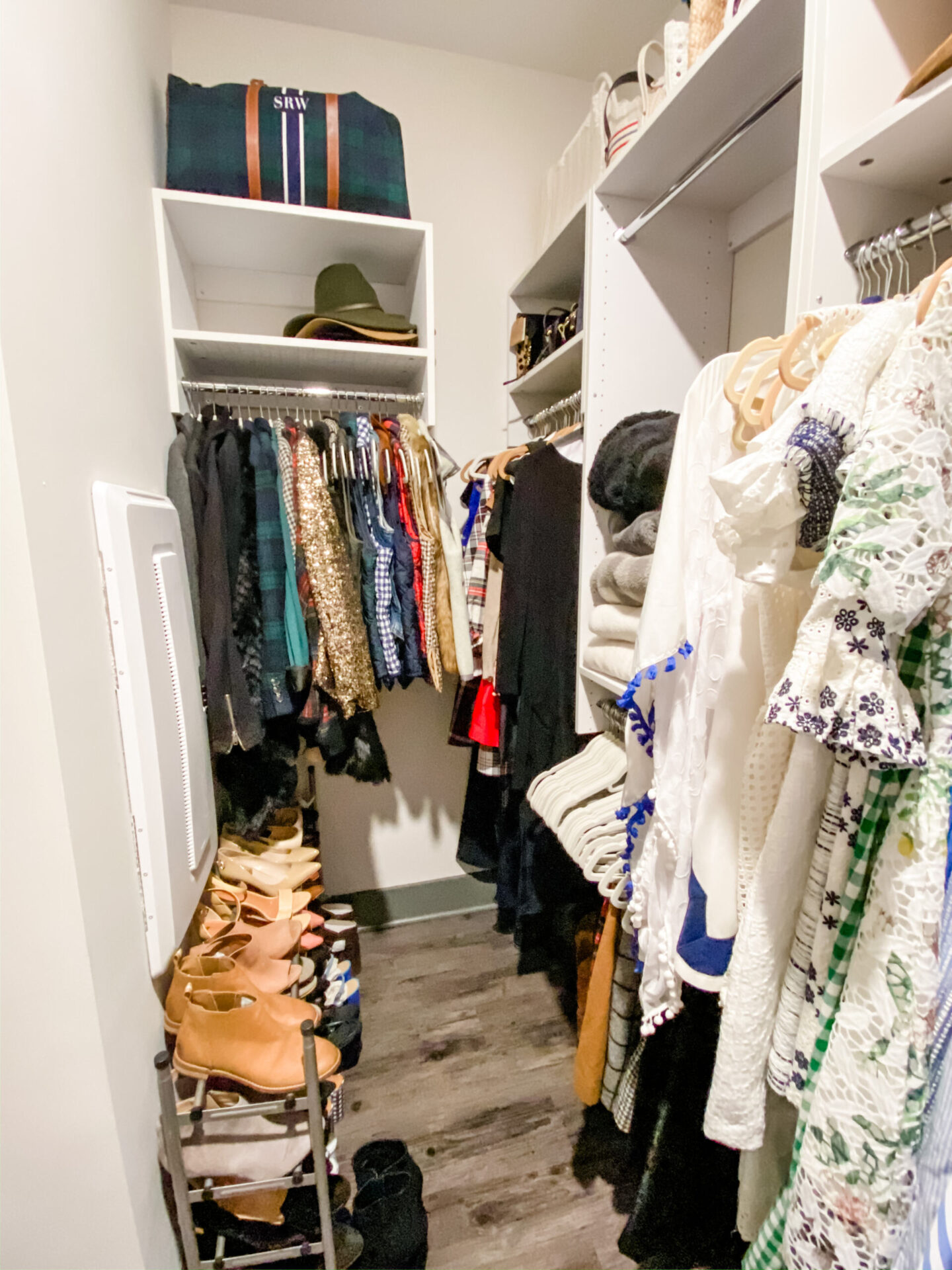 After
Linen Closet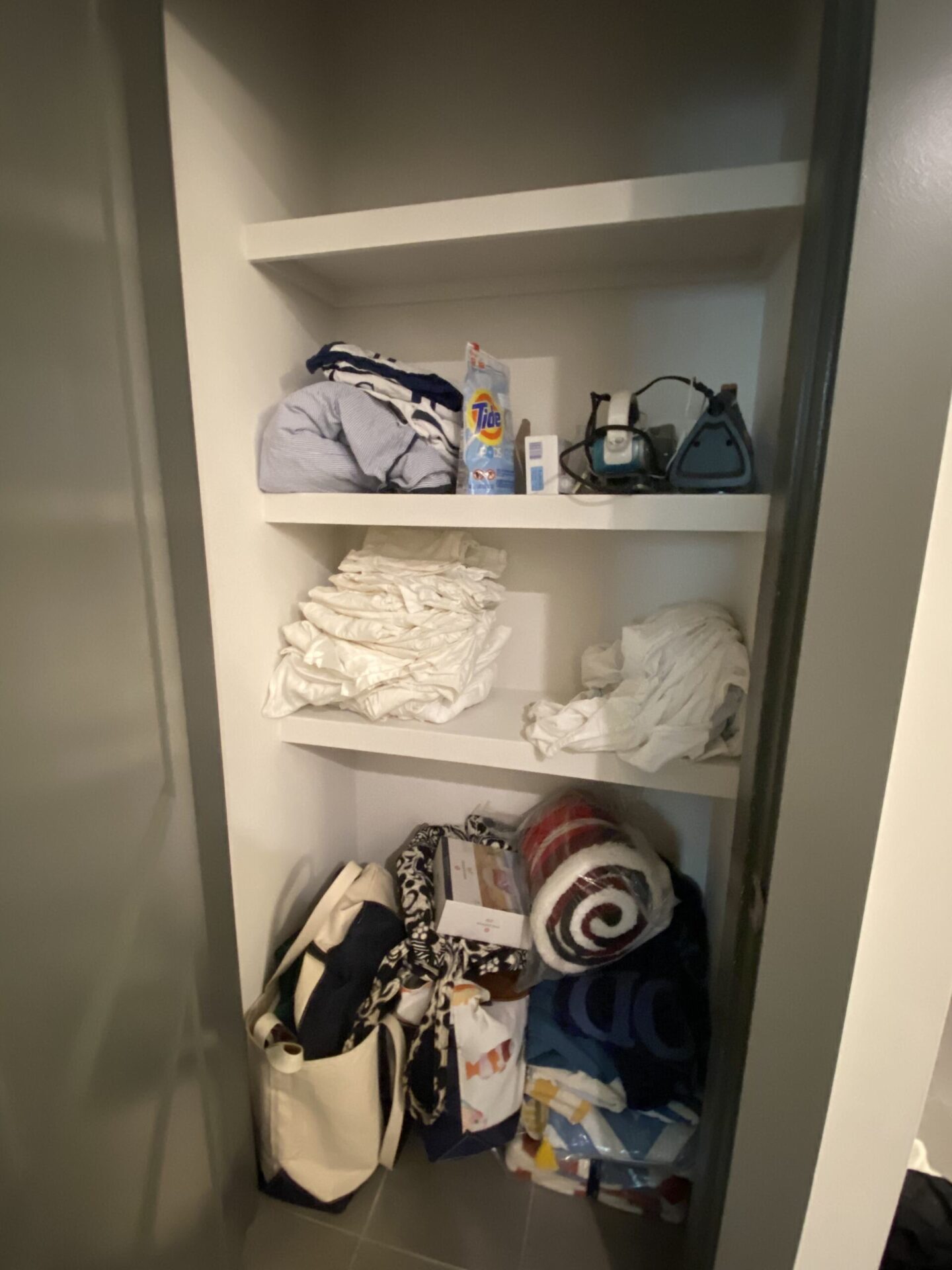 Before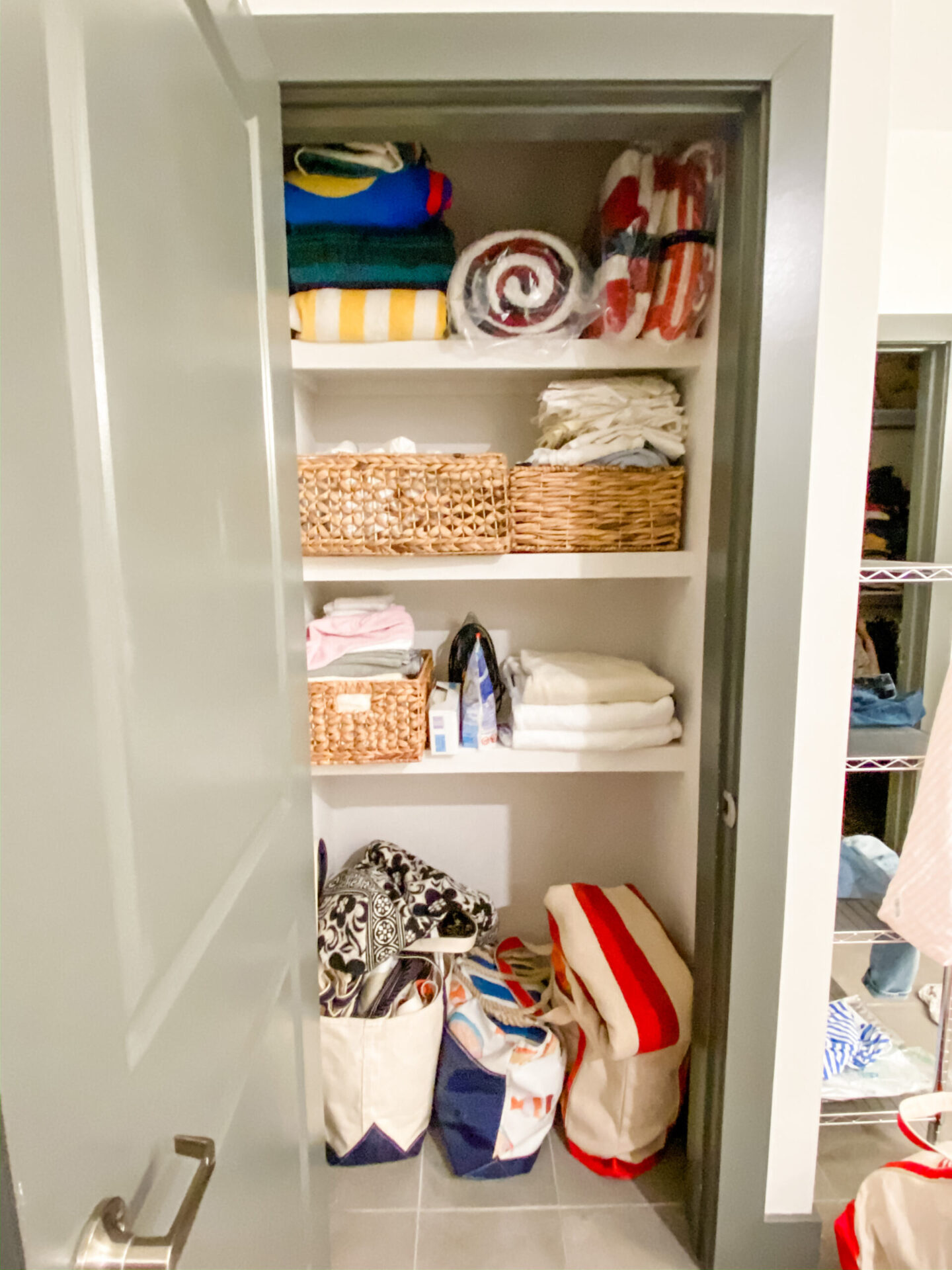 After
Hall Closet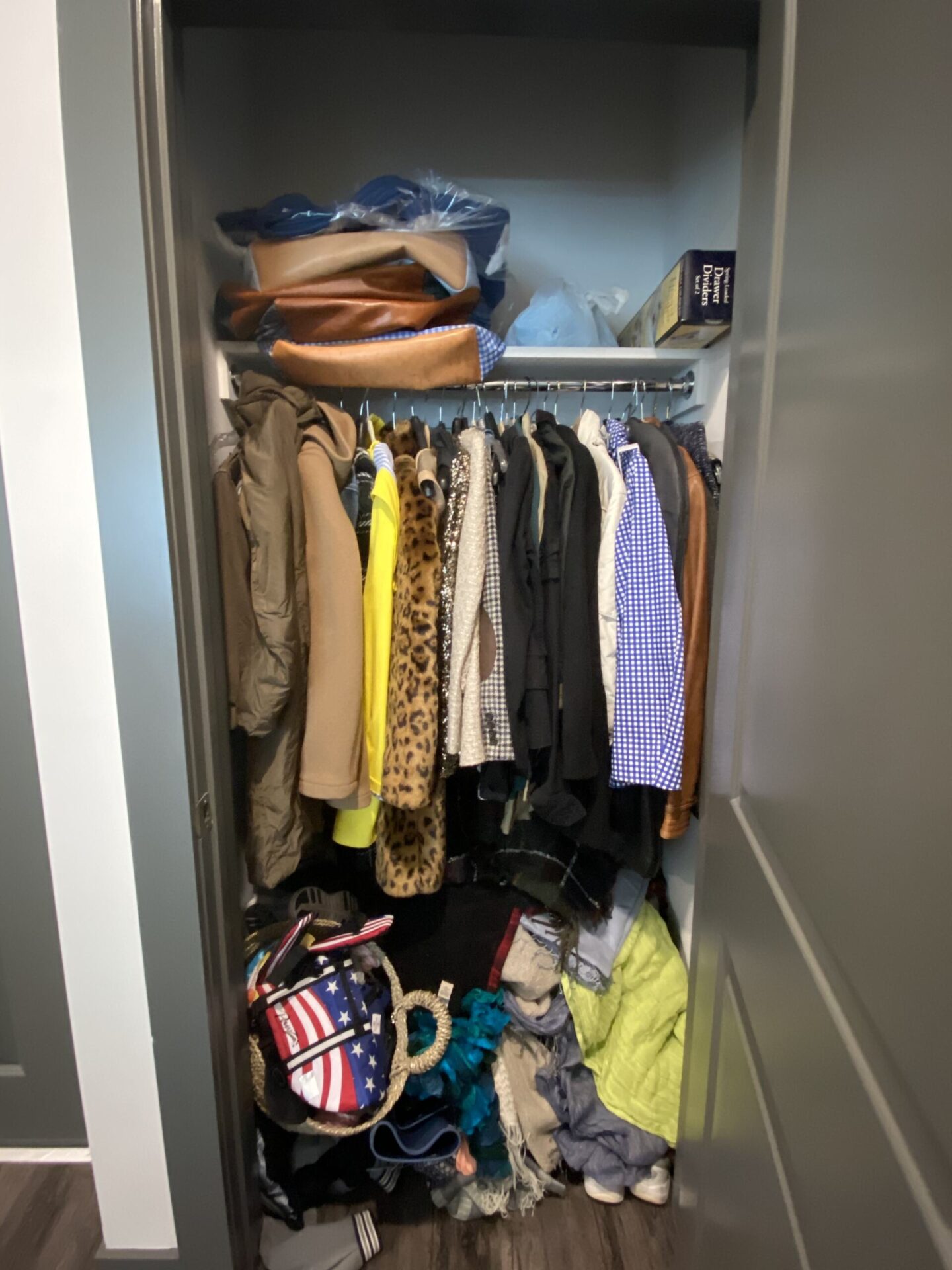 Before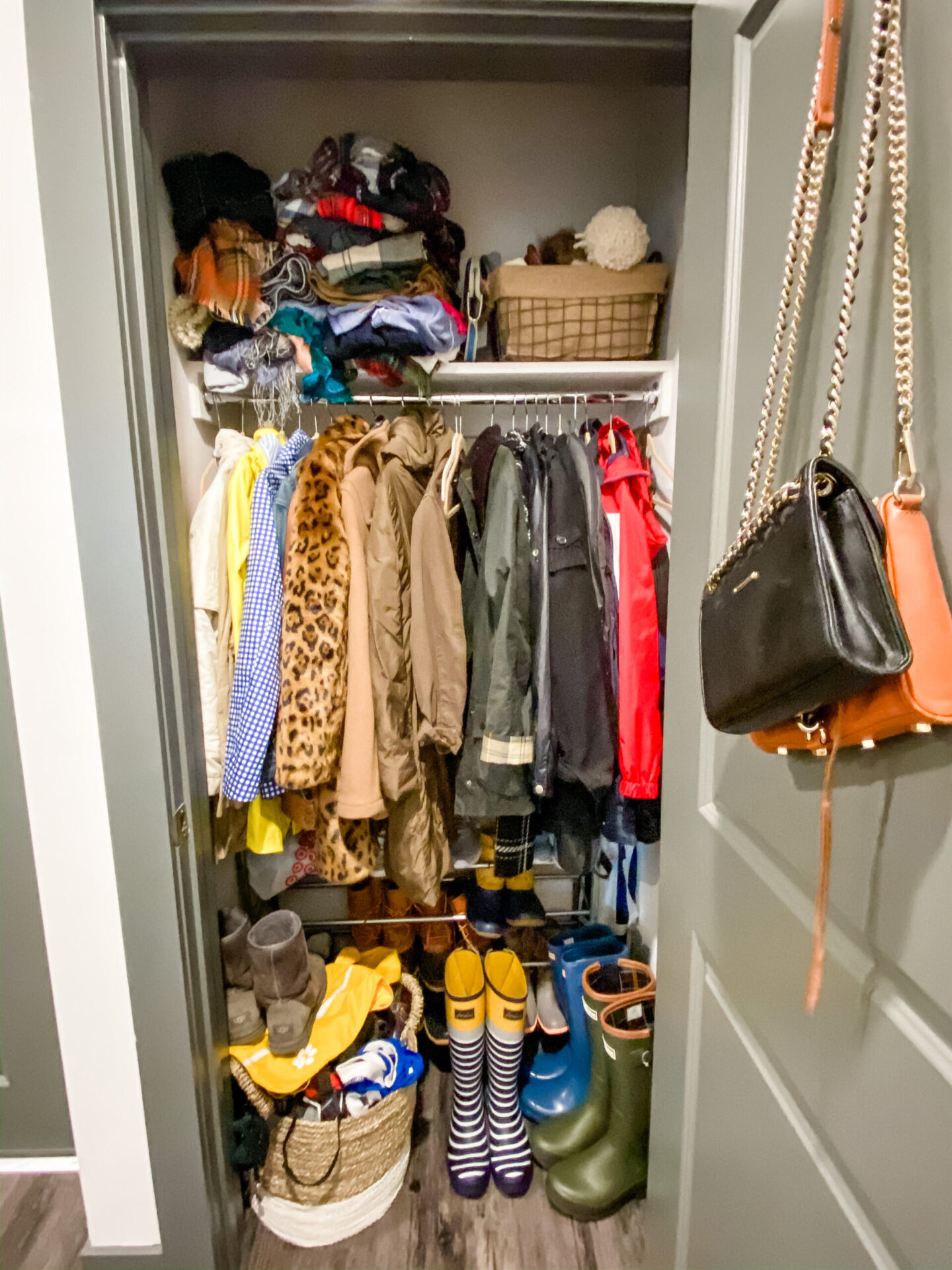 After
After the organization process I had the opportunity to sit with Rebecca and ask her a few questions about how she got started, her favorite parts of her business, her own personal style and tricks for staying organized! See the whole interview below!
4 tricks for a cleaner closet:
Buy all matching hangers for a low cost high impact look. Then hang all clothes by color facing you to make it easy to find things, and to be able to take inventory of what you own and not over buy the same items again. Hang all like items together by color, such as all long sleeve tops together, then all sleeveless tops together, and all skirts together. Put items you don't use often, such as those black tie heels up high, so that they don't take up everyday real estate.
How did you first get into this business?
I use to own the Finicky Filly for 18 years. With a background in fashion and fashion merchandising, this was a natural progression for me. In retail I was given high end real estate. I had to get the most amount of clothes and accessories and jewelry in one space, while making it look pretty and not overly packed at the same time.
What's your favorite thing about helping people stay organized?
I love the feeling people get when they see the spaces I have created!!! They are truly amazed and excited. Usually after I am hired to do one space, such as a closet, they ask me to see other areas of the house that are in need of help.
Do you have a favorite or most special project you've worked on?
My best friends home was my favorite. She needed to declutter her current home, so that she could sell it to buy her dream home. I made her closets look like boutiques. Her linen closets, I boxed up all in used items for storage or donation, to make the closets appear larger. The kitchen drawers and pantry's I added clear bins and dividers so that when clients opened them everything had a place and seemed bigger than they were. She sold her house in 24 hours.
Tips for keeping your closet organized after the initial clean out.
Have a hook for the clean/dirty outfit. You know your favorite sweats or hoodie you thrown on and off everyday. Hand it on that hook, instead of the floor. After a clean out, you will have some "maybe items". Turn the "maybe items " hangers the wrong way. After six months, if you still haven't worn the items, they go.
Tell me a little bit about your personal style and any other fun facts!
Personal style is classic with an edge. I love a traditional outfit, with fun accessories that are a conversational piece. Such as Norton and Hodges fur scarves are such an attitude piece. Sometimes it's great to put on a fun hat or scarf or high heels that give you an attitude or maybe the self confidence that you needed. I love a hat, because you walk with your head held high and it gives you so much personality or an attitude. I also love an investment piece such as a luxury handbag or belt. I still own my first Hermès belt from 1999 I bought in Milan. Great style is always in fashion. Fun fact. I am starting my career over at 48. For the first time in my life, I am following my dreams and my passions. I absolutely love what I do and I love the feels I create for my clients. My clients fall in love with there homes again and that's such an exciting thing to see. I'm currently in the process of getting my AKBD, associates degree in kitchen and bath design.
A HUGE thank you to Rebecca and Luxury Organized – y'all have to check her out!